Science that determines technological progress: The ERNST BLICKLE AWARD
ERNST BLICKLE AWARD winners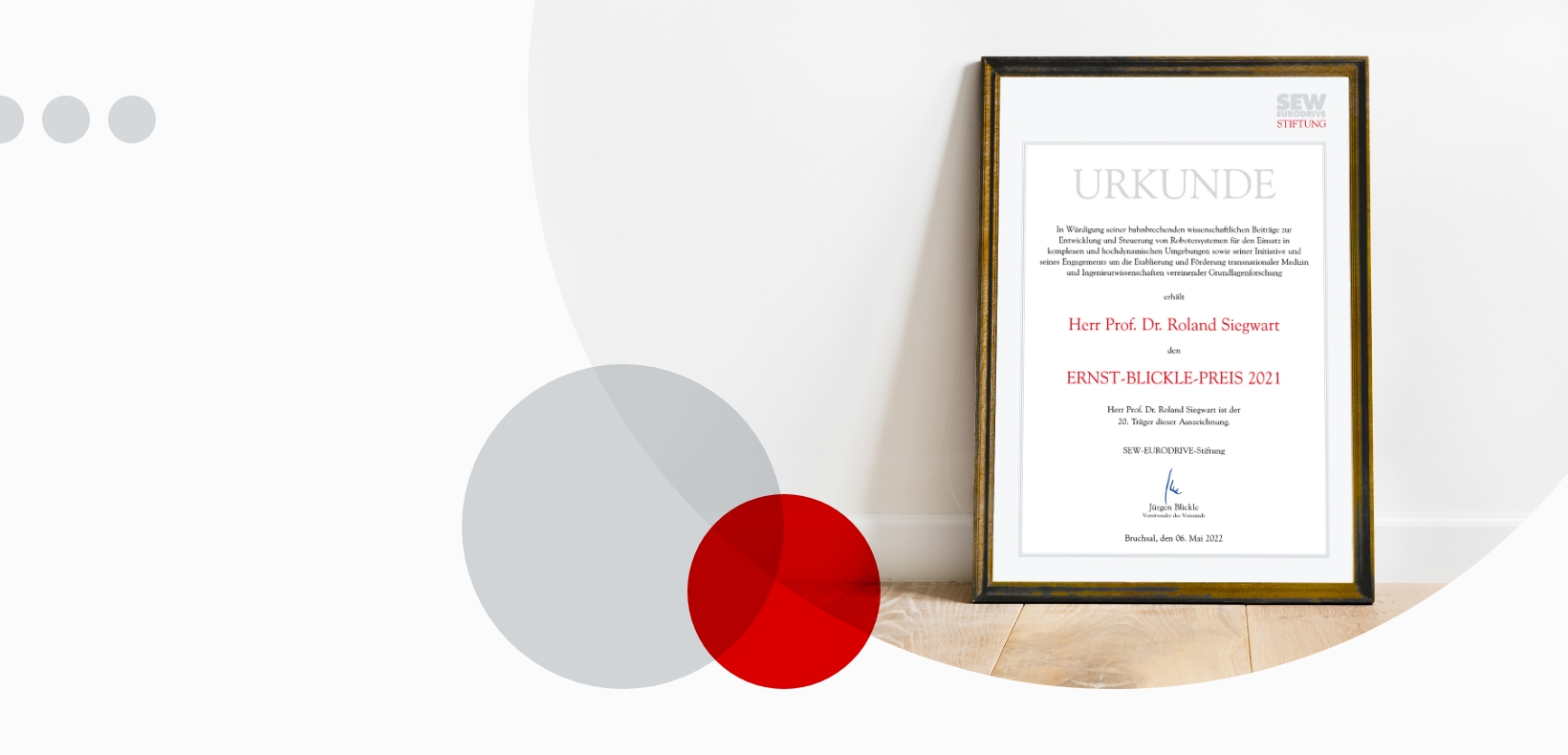 The SEW-EURODRIVE Foundation honors outstanding results in science and industry with the ERNST BLICKLE AWARD. The international award recognizes figures in research and companies who contribute to the progress and the well-being of society through their scientific achievements and entrepreneurial commitment. The ERNST BLICKLE AWARD is worth EUR 100 000. It is awarded every two years and is one of the world's most renowned prizes of its kind.
2021

– Prof. Dr. Roland Siegwart

Prof. Siegwart has received numerous international awards for his outstanding research results, has worked as a coordinator for international research projects and as chairman of leading specialist conferences, and is a member of the board of directors of various international scientific committees, and is also a member of the board of directors of several companies. In addition to the initiation of numerous new high-tech start-ups resulting from his research, Prof. Siegwart has established a bridge between fundamental research and applications as a founding and board member of the interdisciplinary Wyss Zurich Translational Center,

and so has created a stable basis for the transfer of technology to medical applications and innovative products with a focus on regenerative medicine and robotics.
In presenting the ERNST BLICKLE AWARD to Prof. Siegwart, the SEW-EURODRIVE Foundation honored an outstanding scientist and engineer who has made fundamental contributions to the realization of autonomous systems and has earned high accolades by promoting the implementation of the results of fundamental research into marketable products for the benefit of society
2018

– Dr. Cathrina Claas-Mühlhäuser

Dr. Claas-Mühlhäuser is chair of the shareholders' committee and chair of the supervisory board of CLAAS KGaA mbH, Europe's largest and one of the world's leading manufacturers of agricultural technology. After training as an industrial salesperson and studying Business Administration in Switzerland, Dr. Claas-Mühlhäuser worked in national and international companies in the CLAAS Group and

gained extensive professional experience at a major international corporation in the organization and management of global companies. Based on this level of knowledge, Dr. Claas-Mühlhäuser is currently making a remarkable contribution to the research and development of marketable innovations for economic and ecological agricultural techniques.
2016

– Dipl.-Ing. (TU) Martin A. Kapp

Mr. Martin Kapp (Dipl.-Ing., TU) is an exemplary representative of small and medium-sized companies in the manufacturing industry. He shows how continuous innovation can develop outstanding market positions and successfully maintain such companies in international competition. The corporate principles he has shaped are based on reliability, contract compliance, and respectful interaction. Thanks to a high level of personal commitment in associations and institutions, such as the committee of the German Machine Tool Builders' Association (VDW) and the trade association

Machine Tools and Manufacturing Systems in the VDMA (German Mechanical Engineering Industry Organization), as a member of the board of the Research Association for Drive Technology (FVA), as chairman of the VDW and member of the board of the American Gear Manufacturers Association (AGMA) and the European Association of the Machine Tool Industries (CECIMO), of which he was president, Martin Kapp has made crucial contributions to the development of the manufacturing industry and applied sciences that go far beyond the boundaries of his own company.
2014

– Prof. Dr. Leo Lorenz

Prof. Leo Lorenz has played a crucial role in the initial phase of the development of new voltage-controlled power semiconductors and SMART power technologies with fundamental scientific work and has made forward-looking decisions for the market launch of fundamentally new power semiconductor concepts that are currently playing a key role in the field of cutting-edge technology.
In addition, Prof. Lorenz has made an extremely important contribution to strengthening Europe's position in the global competition for new technologies by bundling the pre-competitive research in power electronics and drive technology in the form of the ECPE, of which he is the president.

Prof. Lorenz is also renowned for a continuous effort to transfer knowledge and build technological bridges between universities and industry through lectures, seminars, and workshops on the latest developments and technological trends. His participation in the governing bodies of numerous leading international specialist conferences and a large number of scientific presentations perfectly complement this commitment.
2012

– Dipl.-Kfm. Martin Kannegiesser

Over many years, Mr. Kannegiesser has worked successfully and in an exemplary fashion to shape and manage an industrial company with a high share of added value in Germany. In addition, Mr. Kannegiesser has dedicated himself with a high degree of personal commitment to the economic interests of the manufacturing industry in Germany.

He has played a key role in developing and implementing important framework conditions for collective bargaining policy. It is a characteristic of Mr. Kannegiesser that he addresses the business concerns of companies producing in Germany directly and clearly, but also develops solutions that are presumably capable of consensus and introduces them into operational practice.
Mr. Kannegiesser is a passionate entrepreneur who communicates the strengths and opportunities of German mechanical engineering with conviction and represents them both internally and externally.
2010

– Dr. Michael Rogowski (†)

Over many years holding leadership positions at family-run companies, and also later as Group Executive in major German industrial corporations, Dr. Rogowski always worked with dedication and great success. Dr. Rogowski was also committed to promoting the politico-economic interests of industry and developed and set up key framework conditions.

In the process, he confronted problems directly and with clear words, and always developed viable solution scenarios. Dr. Rogowski was a passionate European who held clear positions even in the difficult times of the financial crisis, and at the same time he repeatedly promoted the strengths and opportunities of the European Economic Area.
2008

– Prof. Dr. Gerhard Hirzinger

Prof. Hirzinger is head of the Institute of Robotics and Mechatronics at the German Aerospace Center (DLR). He is one of the leading scientists involved in the merging and integration of mechanical and electronic components and information systems. Prof. Hirzinger is a nationally and internationally renowned researcher and engineer.

The ERNST BLICKLE AWARD was presented to Prof. Hirzinger to honor a distinguished researcher in engineering who performs cutting-edge research in the fields of sensor technology, mechatronics, robotics, and drive technology.
In his own remarkable way, Professor Hirzinger personally unites the abilities of a creative and conceptionally thinking engineer with the trait of being able to implement brilliant ideas and inventions in products.

.
2006

– Prof. Dr.-Ing. Bernd-Robert Höhn

Prof. Höhn has made significant contributions to the field of gear unit technology with his scientific work and pioneering ideas while working as a design engineer and development manager at Audi AG and as a university professor and head of the Institute for Machine Elements (also known as the Gear Research Center, FZG) at the Technical University of Munich. He is highly renowned both nationally and internationally as a researcher and engineer.

In addition to his great commitment to scientific associations concerned with gear unit technology, machine elements, and general engineering issues, Prof. Höhn represents a comprehensive scientific achievement in engineering, where business, scientific, and social aspects are blended in exemplary fashion.
2004

– Prof. Dr. Fred C. Lee

Professor Lee has made a decisive contribution to the field of power electronics in the last three decades with his extremely significant ideas. It is thanks to his initiative that the Center for Power Electronics Systems, a research center that is part of the American National Science Foundation, was founded in Virginia in 1998. Prof. Lee has been its director since its foundation. The center represented a completely new approach to combining the strengths of numerous universities and research laboratories focusing on the area of power electronics. This helped to nurture a national and international reputation for this collaboration within a powerful network.

Both the research results and the successes in the education and training of young professionals in the area of power electronics are an outstanding testimony to the exceptional effectiveness of Prof. Lee – which is why he was honored with the ERNST BLICKLE AWARD.
2002

– Prof. Dr.-Ing. Joachim Milberg

With his scientific work and pioneering ideas on computer-integrated production and automation technology, he laid essential foundations for designing and operating flexible production systems. Today, this work forms the basis for the design and operation of flexible production.
In his work as an entrepreneur, Prof. Milberg demonstrated in exemplary fashion how the ethics of a company are inextricably linked with its success.

The work of Prof. Milberg represents a scientific achievement in the field of engineering where scientific, entrepreneurial, and social aspects are blended in exemplary fashion. He was awarded the ERNST BLICKLE AWARD in recognition of these achievements.
2000

– Dipl.-Ing. Richard van Basshuysen (†)
1999

– Prof. Dr. Georges Henriot (†)
1998

– Prof. Dr.-Ing. Jörg Hugel (†)
1997

– Prof. Dr.-Ing. Manfred Weck (†)
1996

– Prof. Dr. Manfred Rose
1995

– Dr.-Ing. Ferenc Anisits
1994

– Darle W. Dudley (†)
1993

– Ministerial Director Dr. phil. Wolfgang Finke (†)
1992

– Prof. Dr.-Ing. Hans Winter (†)
1991

– Prof. Dr.-Ing. Manfred Depenbrock (†)